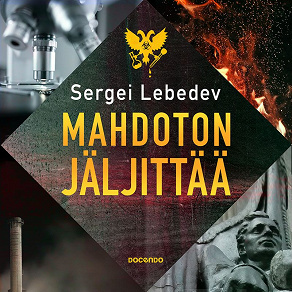 Isbn:
978-95-2382-146-0
Publisher:
Docendo
Category:
Novels
Crime & Mystery
Accessible since:
September 2021
Narrator:
Simo Häkli
Length: 7 hours 47 minutes
---
Mahdoton jäljittää
Professori Kalitin on häikäilemätön, narsistinen kemisti, joka on kehittänyt äärimmäisen tappavan myrkyn työskennellessään salaisessa kaupungissa Venäjän Kaukoidässä. Myrkyn nimi on Debytantti, ja sitä on mahdoton havaita tai jäljittää.

Syyllisyys jäytää myrkyn kehittäjää selittämättömien kuolemantapausten listan kasvaessa. Neuvostoliiton romahtaessa hän loikkaa länteen ja saa uuden henkilöllisyyden Saksassa.

Kun taas yksi venäläinen murhataan Debytantilla, Katlin paljastuu ja lännen agentit vetävät hänet mukaan murhan tutkintaan. Kaksi Venäjän erikoisjoukkojen tappajaa, joiden kädet ovat tšetšeeniverestä punaiset, lähetetään vaientamaan hänet - hänen itsensä kehittämällä myrkyllä.

Tässä kiivastahtisessa, lajityypin rajoja venyttävässä tarinassa Lebedev punoo jännitystä hämmentävän kauniilla proosalla, joka luotaa pahan historiallista kehityskulkua natsilaboratorioista, stalinistisista salajuonista ja Tšetšenian sodista aina nykypäivän Venäjälle.

Sergei Lebedev (s. 1981) on venäläinen runoilija, esseisti ja toimittaja. Hänen kirjojaan on käännetty useille kielille. The New York Review of Books on ylistänyt Lebedeviä "nuoremman polven venäläiskirjailijoista parhaimmaksi".
Listen to sample
---