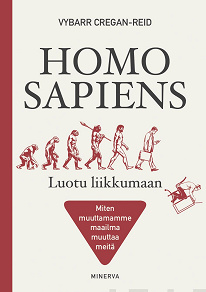 Isbn:
978-95-2312-932-0
Publisher:
Minerva kustannus
Category:
Medicine & Health
Science
Accessible since:
November 2019
---
Homo Sapiens - Luotu liikkumaan
Homo Sapiens - Luotu liikkumaan on ajankohtainen ja monipuolinen tietokirja ihmisen kehityksen ja ympäristön suhteesta.

Kirja kuvaa kansantajuisesti, miten ihmisen keho on kehittynyt miljoonien vuosien aikana, mutta elinympäristö muuttunut radikaalisti vain viimeisten parin sadan vuoden aikana.

Vybarr Cregan-Reid osoittaa kirjassaan, että vaikka elämä on monella tapaa helpompaa kuin ankarissa olosuhteissa eläneillä esi-isillämme, todellisuudessa ympäristö, jossa elämme, sairastuttaa meidät.

Biologisesti ihminen on yhä metsästäjä-keräilijä, joka on suunniteltu liikkumaan ja joka ei tiedä tuolista mitään.

Ympäristön ja kehon välisestä ristiriidasta seuraa monenlaisia vaivoja ja sairauksia: mm. selkävaivoja, sydän- ja verisuonitauteja, kakkostyypin diabetesta, syöpää, hammasongelmia, monenlaisia psyykkisiä ongelmia, kuten jatkuvaa stressiä, unettomuutta ja masennusta.

Kehityksen kelloa ei voi kiertää taaksepäin. Vai voiko? Vybarr Cregan-Reidin mukaan voimme tehdä paljonkin. Meidän täytyy vain opetella elintapoja, jotka vastaavat paremmin omaa historiallista kehitystämme.

Vybarr Cregan-Reid on kirjailija ja Kentin yliopiston tutkija. Hän on aiemmin julkaissut mm. Footnote: How Running Makes Us Human. Hän on kirjoittanut moniin julkaisuihin lukuisia artikkeleita ympäristön vaikutuksesta terveyteen, mm. The Guardian, The Independent, The Mail, The Washington Post.
---