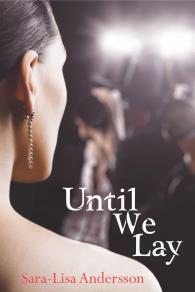 Until We Lay
Sometimes the last thing you want is exactly what you need.
Until We Lay is the story of Lainey and Palle, an American supermodel and a Danish sociology student, whose paths cross when Lainey is hired to do a show during Copenhagen Fashion Week.
Venice of the North doesn't quite live up to its romantic reputation in cold and gray February, and when Lainey's extravagant but shallow life suddenly starts to crumble around her, she finds herself stuck in a purgatory of freezing rainstorms, lies, and memories that threaten to shatter what little hope she has of picking up the pieces.

Palle is determined to save the world, one person at a time, and when a real live damsel-in-distress suddenly stands barefoot in front of him in the freezing rain, he jumps at the chance to prove that he is not too soft to deal with the realities of a social worker's caseload. But perhaps he got a hold of the entirely wrong end of this particular stick, and sometimes good intentions and a sweet disposition just aren't enough to deal with actual problems.


Until We Lay is a stand-alone contemporary romance with an HEA.
---