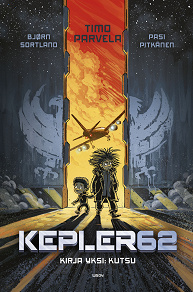 Kepler62 Kirja yksi: Kutsu
Suosikkitekijöiden uusi sarja alkaa! Be part of the story - Lähde mukaan hurjaan avaruusseikkailuun!
Kirja yksi: Kutsu 13-vuotias Ari pitää huolta sairaasta veljestään Jonista. He elävät maailmassa, jossa luonnonvarat ovat huvenneet dramaattisesti. Vapaa-aikansa veljekset viettävät uuden Kepler-pelin parissa, joka on kaikkien huulilla, ja pääsevät niiden harvojen joukkoon, jotka ovat pelanneet sen läpi. Kukaan ei tiedä mitä pelin viimeisen tason loppuun suorittaneille tapahtuu, mutta siitä kulkee villejä huhuja. Kyseessä ei ehkä olekaan pelkkä peli, vaan kutsu. Mutta kuka on kutsuja ja minne se heidät vie?
Suomalainen Timo Parvelan ja norjalainen Bjørn Sortlandovat yhdessä kuvittaja Pasi Pitkäsen kanssa luoneet valloittavan maailman, jossa ystävyys punnitaan keskellä tuntematonta avaruutta. Kirjat ilmestyvät samanaikaisesti Suomessa ja Norjassa.
---